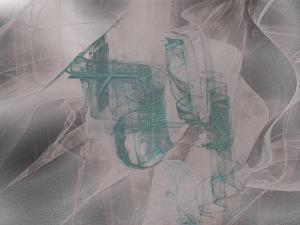 Exhausted, a piece I completed and released into the world on July 16, 2012.

One of my first abstract digital fractal manipulations, it is a piece in green and gray, with texture in both the foreground of the fractal used and in the background to mimic the look of real paint on canvas. The piece began as a fractal rendered with Apophysis, then brought into Gimp for post processing.

The title of the piece, Exhausted, is of unknown origin, but was probably how I was feeling at the time after trying several different digital techniques to bring a flat fractal to life and give it dimension. As it was one of the first fractal manipulations I had attempted I was still discovering what was possible.

If you have any thoughts or feelings about the piece, drop me a line!

Cheers!
J5rson!